jjjjjjjjjjjjjjj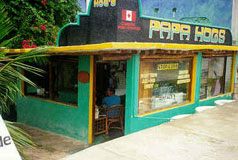 Mike has worked in the warm waters of Florida and the other extreme of cold water diving in southern Ontario as owner of multiple dive shops. While Mike resides and operates Papa Hogs in Cozumel, he is also the National Training Director for IDEA Canada, as well a a Course Director for NAUI and holds a rating of Instructor with PADI.
Margaret had been in the travel business for 14 years when she met Mike. "I took his diving course," said Margaret with an impish grin, "and fell in love with the teacher." She also fell in love with diving and has been working in the diving business for the last 16 years. Margaret is an Instructor with PADI and holds Staff Instructor ratings with NAUI and IDEA Canada. Margaret comes highly recommended by many experienced divers, as their instructor of choice. She excels in helping the new diver overcome obstacles in the certification process through confidence and knowledge which she instills in during the open water certification process.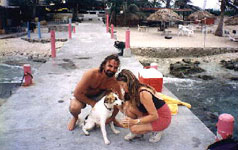 Mike and Margaret opened Papa Hog's in 1991, with one six-passenger fast boat and some stiff competition. In 1991 there were merely 50 dive operators on the island.
Early in 1998 the Gerus's decided Papa Hog's needed some major upgrading. Besides purchasing new motors for the boats and a new face lift for the dive shop. This icludes a new restaurant and bar, The Hog Town Cafe as well as a retail store, Mama Hogs SCUBA Boutique. Both are conveniently located across the street from the dive operations. Also onsite is the Hog Town Motel which caters to the SCUBA diver.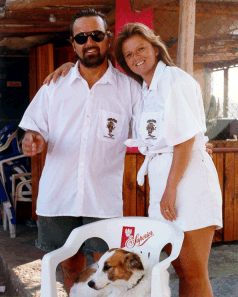 Today with more than 150 dive operations on the island of Cozumel, Papa Hog's has grown to become one of the larger and more popular dive operations. Currently Papa Hog's has 7 six-pack fast boats and one 43 foot Chriscraft capable of operating with eighteen divers or similar compliment of passengers when used in its deep sea fishing capacity.
The Gerus's attribute Papa Hogs success to a honest, full faith attempt to give great service. This attitude has trickled down through the staff of the shop and can be seen at all levels of the diving and retail operations.
With the growth of Papa Hog's over the past fourteen years, it continues to offer a small dive shop atmosphere with great service. Their staff of Divemasters, are some of the finest you'll find in Cozumel. Go by and enjoy a dive with great service.
Tom Olson
Houston, Texas
Customer since 1994 and the Dive Shop Webmaster