ALERT! ALERT! ALERT!
Papa Hogs Customers, due to recent Bank Fraud that has occurred among many of the Cozumel based dive operators, please do not wire any fund requests you receive via email. If you have questions, call us
From the United States: 1-877-817-9987
From Canada: 1-877-377-4394
From All Other Countries: 011-52-98787-21651
You are Diving, Drinking, Fishing, Eating and Sleeping at Papa Hogs SCUBA Emporium.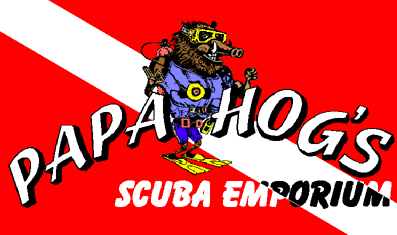 It is Canada's original Mexican dive shop located in Cozumel, Mexico.
Started in 1991 by Mike and Margaret Gerus, Papa Hogs is a leader in the dive industry delivering home town hospitality. CELEBRATING 25+ YEARS OF SERVICE, it's been our pleasure to watch many families and friends grow. Through the years, we have enjoyed many families who have trusted us to train their 3 generations of family divers. We may be getting older (HaHa), but our babies who have taken time off to have babies, are back! WELCOME HOME!!
ON TO THE NEXT GENERATION
Our clients have also created great friendships and diving partners. Forming their own 6 and 8 pax boats to scheduling their future holidays together.
Join the PAPA HOGS FAMILY and you will meet some great fellow divers and future friends. Always a friendly face on our boats.
At Papa Hog's we welcome all beginner and experienced divers alike. We group divers with similar experience levels together into Our Fleet of six and eight pax fast boats. You can depend upon Papa Hog's and our Dive Masters to safely lead your dives the way you would want.
Along with providing the best SCUBA Diving Experience, we also offer snorkeling and fishing excursions
Bring your open water certification passport to Papa Hogs and complete your dive training in our clear warm waters of Cozumel. Just ask how. We serve these world wide training organizations:


PADI – Professional Association of Diving Instructors


NAUI – National Association of Underwater Instructors


SSI – SCUBA Schools International
Upon completion of your diving day you can put your dive gear into our on-site lockers, shower off and step into The Hog Town Cafe and enjoy both great Mexican and American cuisine while replaying your day with your new found friends.
We also offer accommodations at Hogtown Hotel, if you like basic but comfortable accommodation. check us out
Papa Hogs SCUBA Emporium is you hometown SCUBA community on the beaches of Cozumel. We are family owned and operated. We care!!!!
There are many things to see and do while you are visiting the Island of Cozumel. Thank you for doing them with us.