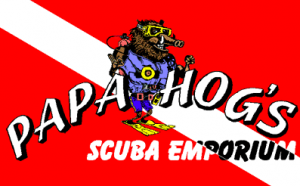 Papa Hog's SCUBA Emporium is Canada's original Mexican dive shop located in Cozumel, Mexico.
At Papa Hog's we welcome all levels of divers.  With Our Fleet of 8 boats ranging in 6, 8, 10, and 16 passengers, we are able to match divers with others of the same skill level.  FOUNDED as a SMALL FAST BOAT OPERATION IN 1991, we still, AFTER 25 YEARS, believe in small groups for maximum diving pleasure!
Our 10 and 16 passenger boats support our larger groups, as well as customizing those special events when not ALL are divers but want to experience a day at sea together combing diving, snorkeling and maybe even a little fishing!
Trust PAPA HOG'S and our Dive Masters to safely lead your dives the way you want.
Papa Hog's will pick-up you up when you choose a hotel south of town; from the Barracuda Hotel pier as far south as the Iberostar Resort. Stop in and arrange pick-up times.
At times of inclement weather you still having the option to use the 43 foot Chris Craft in those rare times when the small boats are closed down and only boats larger than 40′ are cleared to depart the harbour.
Even though Cozumel features the best high energy, low stress drift dives in the world, dive computers are encouraged.
All dive groups depart Papa Hog's in the morning at 8:30 AM and return at 12:30 in the afternoon. Afternoon dive groups depart at 1:30 PM and return at 5 pm.
Two Tank and Three Tank Boat Dives
Starting December 20th, 2023

1 to 2 Days

3 or More Days

Two Tank Dive Trip
$94.00
$89.00
Three Tank Dive Trip
$140.00
$140.00
Single Tank Night Dives
$65.00
$65.00
All Rates are per day and do not include the National Park Fee of $4.50 per day/diver
Equipment Rental
| | |
| --- | --- |
| B.C AND REGULATOR ON BOAT TRIP | $15.00 / DAY  B.C only 8.00 or Regulator only 8.00 |
| Wet Suits | $5.00 / DAY |
| Dive Computers | $10.00 / DAY |
| Dive Lights | $10.00 / DAY |
| NITROX Tanks (Must hold Certification) | $12.00 / Tank |
Shore Diving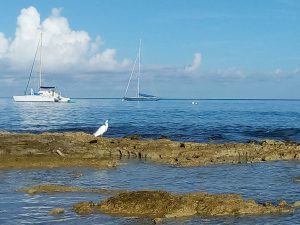 We are fortunate to have a very popular shore diving reef only a few feet away from Papa Hog's Beach, called Villa Blanca Shallows / Papa Hog's Reef. You are welcome to come and do a shore dive from our beach. No need to bring a tank with you, we rent them here, and any other equipment you may need.
Papa Hogs Shore Diving Tank Rental $10.00
SCUBA Instruction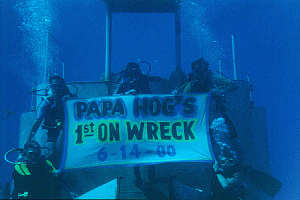 Learn to SCUBA dive in the warm, crystal clear waters of Cozumel. Papa Hog's has experienced, knowledgeable, and friendly instructors capable of taking you on your very first SCUBA dive or helping you become an instructor yourself.
Discover SCUBA $85 USD
Refresher Course $85 USD
Open Water Referral $350 USD Includes 1 two tank boat dive
Open Water Course $450 USD, Includes 1 two tank boat dive
Advanced Course $400 USD, Includes 1  two tank boat dive
For Rescue, Dive Master and Instructor Courses, Ask for Details.
ELEARNING 
Save time on your vacation and enjoy a discount on your openwater and advanced course by signing up and completing the elearning course.  Register with Padi and connect with our shop "PAPA HOGS SCUBA EMPORIUM",  contact us for details.
Specialty Diving and Fishing Trips
Papa Hogs offers any combination of SCUBA Diving, Deep Sea Fishing, Snorkeling adventure for your group or individually on the island.
Whatever your heart desires, ask us for the details.
Notice to All Divers
ALL OF OUR DIVING BOATS HAVE THE PROPER MARINE PARK PERMITS, CAPTAIN OF PORT PAPERS AS WELL AS FULL SAFETY EQUIPMENT.